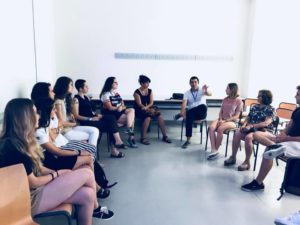 I have participated as a member of the Organizing Committee of the Conference ATENEA – WOMEN IN ARTISTIC TECHNOLOGIES, that was held at UPV (València) at the Facultad de Bellas Artes. This was intended as a network space for women in art, science, and technology.
I organized there a special session about female students participating in academic competitions and developing extra-curricular projects while studying in the university. I want to thank the following people who kindly accepted to participate there.
Chair: Carlos Ripoll (Coordinator of the Generación Espontánea Project at UPV)
Participants:
Rocío Benavent (Prime the animation)
Saray Cerro (Azalea – Soalr Decathlon)
Irene Martínez (Chatterplant – iGEM)
Amparo Perucho (Club de Debate)
Mª Ángeles Espinosa (Hyperloop)
Katja Alexandra Ampudia y Alicia del Valle (YuDe)
It was really interesting to hear them about their projects, their goals, and their vision of gender equality in the university, their teams, and in the rest of the world.